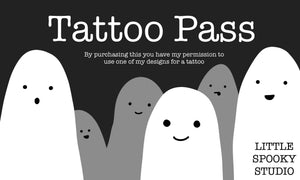 Little Spooky Studio
Tattoo Pass & Permission
Regular price
$25.00
$0.00
Unit price
per
This listing is for those interested in getting my art tattooed on themselves!
By purchasing this listing you are making a donation to me and getting my permission to take any piece I have drawn to a tattoo artist and having them tattoo it.
This listing is good for one use per one design. If you wanted multiple designs/tattoos please purchase the equivalent amount.
You will not receive anything physical with this purchase, but if you need to print a copy to bring to your tattoo artist I can email you this pass image upon request!
It truly blows my mind that people are interested in having my work tattooed on them, so thank you for making dreams come true 🤗 and please send me a photo or tag me so I can see it! 🖤🖤🖤
---